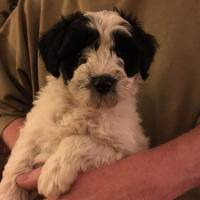 Sold: Po Jeffrey has a soft wavy coat. I am pretty sure that if Po Jeffrey had to take sides, he would side with Jo Jeffrey, because they really are brothers. Adorable!
Sold: Chinese Jeffrey has a black coat with silver eyebrows, feet and chest. Jeffrey has him convinced that he is a distant cousin... Very cute!
Sold: Tuxedo Bill has a very soft black wavy coat with a white markings on his chest. He looks like a teddy bear. Jeffrey is also jealous of Tuxedo Bill, but he thinks this is normal because he has come to the conclusion that Tuxedo Bill belongs to the neighbor.